I don't know if you've heard but we've got some BAD HOMBRES out there y'all. These BAD DUDES are out there, they exist, and they are serving some SUB-PAR"so-called" margaritas. When every restaurant in town not only offers, but boasts about the superiority of their house margarita (SAD!) what is a New Mexican to do?
This was a job for only the specialist of all special force teams, one specifically trained in the EXTREME VETTING of all lime and tequila based cocktails, one composed of individuals willing and able to begin drinking on a weekday at 11:30 AM.
Luckily I am #blessed with knowing precisely such a force. A coalition who not only understands the value and importance in a well-executed margarita, but who also possesses the strength and courage to stand up for what's right and speak the truth:
Not all margaritas are created equal.
And so, we decided to ring in this presidency in the only truly appropriate way: irresponsibly and as inebriated as humanly possible. Don't even ask how we celebrated MLK day.
clear eyes, full hearts, can't lose.
First up on our panel, to the left to the left we have Ms. Jennifer Wright. Hailing from Tucson, AZ she enjoys a well-balanced margarita and vibrant lip color. As the day progressed, we learned that by well-balanced what she meant was sour-as-fuck.
Next is Melanie "Salt-Hater" Aragon. My notes specify that she is an alcohol polygamist, which I think was somehow supposed to convey that she holds no strong opinion about margaritas in particular…but I cannot be sure.
Our third member, Colin "we aren't drunk, we're just obnoxious" Baillo is our resident Anti-Tequila advocate and lime aficionado. He prioritizes all existent flavors other than tequila in his margaritas, and nurses a chronic low-key obsession with limes.
Last and definitely least, Kallie Red-Horse just came for the chips and sweeping generalizations. But mostly the chips.
In honor of the day's events (namely the disintegration of our country's political and moral infrastructure and dignity writ large) we placed our scores of each establishment's beverage along the Trump-tastic scale for thematic cohesion's sake (something I personally prioritize over virtually all else. Except chips. And limes.)
 0= SAD!  5= TREMENDOUS!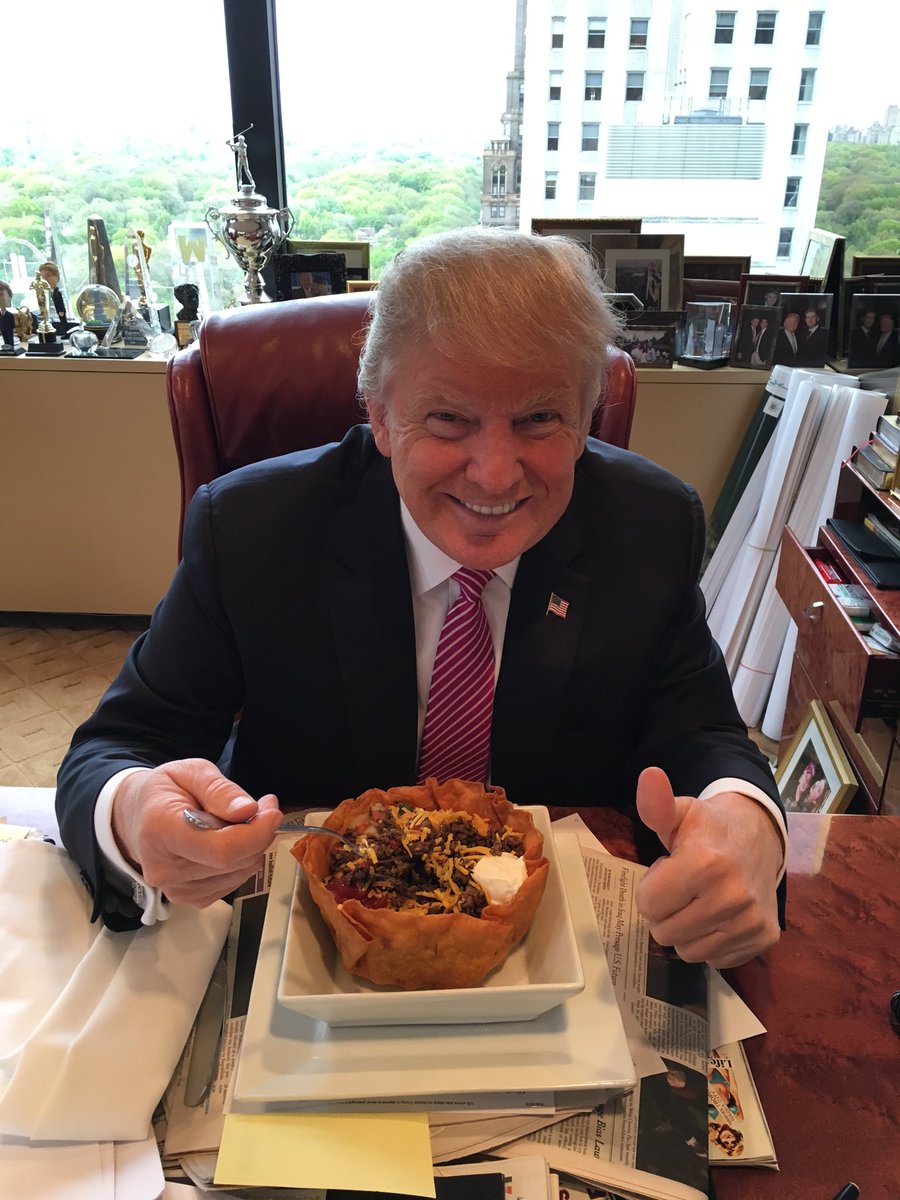 Additionally, it bears mentioning that there was tangential criteria that played into our evaluations. Namely, limes and chip proficiency. Ole!
El Patron
We began our day as arguably no person should: drinking an alcoholic beverage 11 am. El Patron was our first stop. Little did we know that despite touting quite an extensive selection of tequilas and drinks to put said tequila in, El Patty's self-proclaimed award-winning marg was to be unequivocally the group's least favorite of the day.
The Casa De Patron can best be described as the finest, aged Fresca blended with a sugar-heavy simple syrup and topped off with a few drops of tequila or as Jen oh so eloquently phrased it: "Mine fucking failed."
The drink is listed on menu as containing Patron silver tequila, triple sec, and a splash of OJ. All of which sounds delicious, so I can only surmise that the sickeningly sweet quality of the beverage comes from the highly-toted, house-made margarita mix.
Furthermore, and perhaps more importantly, there was non-existent lime squeezing action: "It looks more like a cockroach than a lime" -Colin 
Final Scores
Jennifer: 2.5
Melanie: 0 SAD!
Colin: 2
Kallie: 1
Sadies
Our next stop was the tried and true NM classic, Sadies. We decided to branch out a bit and all get different margarita variations for our second beverage of the day.
Silver Coin: silver tequila, Cointreau, lime juice
A little too sweet for our fair Jen, but she liked it more than the previous one.. which says pretty much nothing. Colin couldn't taste the tequila, so in that respect was pleased. 
Santa Fe: silver tequila, cranberry juice
a.k.a. the margarita for the person who doesn't like margaritas. While Mel enjoyed this, it in no way looked/tasted like a margarita.
Prickly Pear: Casa Amigo silver tequila, prickly pear nectar, sweet and sour, lime
Didn't like it, drank it anyway. VERY SWEET.
Across the board it was agreed that the limes, chips, and salsa were miles better than the previous establishment but you could have probably guessed that.
Final Scores
Jen: 3.5
Mel: n/a
Col: 3
Kal: 2
El Pinto
Just one really heinously expensive slash awkward Uber ride away, we arrived at El Pinto where an undecided amount of presidents have visited for some reason. They have yogaritas on SUNDAZE which is pretty damn sweet.
House Margarita
Pretty standard, delicious (it IS a margarita after all) butttt nothing to write home about.
Avocado Margarita 
Basically a smoothie, but with alcohol (or in other words, the perfect drink). FAIR WARNING: If you don't like avocados it should be obvious to not order this, but even the avocado ambivalent crowd should stay far, far away because it you are consuming ten avocados minimum and it tastes exactly like it sounds. 
Jalapeño Margarita
Just spicy enough, this was frankly just a damn good margarita my friends. If you are planning on having more than one perhaps it is not the ideal choice but the one I had was amazing. 
Final Scores
J: 3.5
M: 3
C: 3.5
K: 4.5 TREMENDOUS!
Cervantes
A personal fave of mine, I expected to C-town to straight up blow all the others out of the water. The swanky, velvet-walled back room is what I can only assume is like a trip straight back to the 70's. And while they certainly delivered, honestly it was not as mind-blowing as I expected.
There is one thing for certain however, when you come to Cervantes ask for Carl Kyle, because "Carl's Kyle's.got.your.back" when it comes to marg suggestions and providing free chips. *It bears mentioning that while chips had to this point been graciously provided free of charge, at Cervantes you have to pay for them and this impacted the score. Our decision to take tequila shots also impacted the score*
We stuck to two classics, recommended by out pal Carl Kyle.
Silver Coin: Herradura silver tequila, Grand Marnier, lime juice
This one was fairly standard, it is a solid option if you are looking for a good margarita. We had nothing to complain about per-se but it wasn't anything particularly interesting.
Grand Gold: Not sure what is in it exactly but can safely assume it involved Cuervo gold.
Carl's Kyle's recommendation, would and likely will order again
Final Scores
J: 2.75
C: 3
K: 3
Zacatecas
Indisputably the crowd favorite, which may or may not be due to it's placement on the day's agenda. Whatever the reason, they kept the chips flowing and the margaritas..also flowing. Ali was there too.
Aguamiel: Cazadores resposado tequila, st germain, fresh lime juice, and muddled cucumber
This one was across the board decided as the best of the day, the cucumber is refreshing and the st. germain zippy and it was just amazing you guys. I want one right meow. 
Zacarita: House margarita mix made with Sauza blue 100% agave tequila, triple sec, and fresh lime.
At  4 dollars a pop if you are a student, or say that you are student and really aren't, it is without a doubt the best bargain. It was sour enough for Jen, and had just the right amount of tequila for Col. The price tag was a welcome sight for our band of wayward drinkers at this point in the day.
Mezcal Manhatten: Vida Mezcal, Solerno Blood Orange Liquer, Aztec Chocolate Bitters and Sweet Vermouth
This was Colin's first choice, before switching to something…else which I conveniently forgot to write down but am pretty certain was the Zacarita because we were all slowly diminishing what little cash we had to our names. 
Final Scores
J:5
C:5
K:5
A(li):5
!!WINNER!!
Andaluz
I am not sure which drinks we had at Andaluz, our last stop on the Tour de Margaritaville 2017.  I do happen to recall they were delicious, and that the bartender is an alright guy I guess. They will craft whatever you want to your taste, which is ultra nice. Be prepared to pay for their swanky atmosphere and alcohol knowledge, and there was a notable absence of chips.
Happy hours and deals and specials and fun things:
El Pinto 
Happy hour Monday thru Friday from 4:30 – 6:30. Enjoy $1.00 off all drinks served in the lounge.
Happy Hour Appetizer (barely even know her) menu ranging from $3 – $5.
THEY ALSO HAVE THIS THING CALLED YOGARITAS! For 5 bucks (donation, but don't be an asshole), you can do a yoga class WHILE DRINKING A MARGARITA. They are on Sundays, weather permitting.
Cervantes
Happy hour M-F,  4-6
Zacatecas
T-F 4-6 happy hour.
Oyster happy hour every day 4-6, which I remain skeptical about in NM but follow your hearts.
Students get 4 dollar Zacaritas